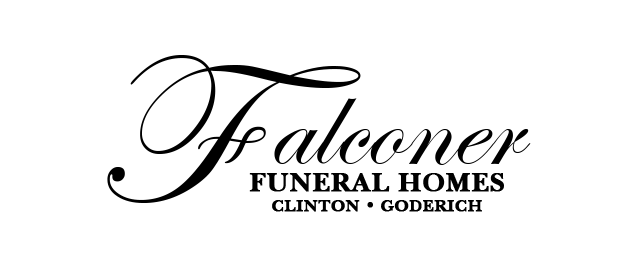 About Us
Falconer Funeral Homes, operating funeral establishments in Clinton and Goderich, is independently owned and operated by Box and Smith Funeral Chapel Inc., which is owned, operated and controlled by Christopher M. Smith.
Falconer Funeral Homes has three fully licensed funeral directors to be there for you when you most need guidance, as well as an excellent and caring support staff. Whether you speak to funeral directors Christopher Smith, Mark Rushton or Amanda Rich, you will be speaking with an experienced funeral director who can guide you through this difficult time.

Our Staff
Our dedicated and supportive staff are here to guide you through this difficult journey. We take pride in doing our absolute best to ensure your needs are met. We are here for you.

Map & Directions
The passing of a loved one may often lead to a long road home. Whether you're coming from near or far, we've made finding us as simple as possible.

Our Facilities
Our home is yours. Please, take some time to familiarize yourself with it; we've worked hard to make our home as warm and as inviting as possible.

Contact Us
Looking for something you can't find? We make it easy to get the answers you need. Please feel free to contact us at any time.

Testimonials
Your impression of the quality and value of our services is very important to us. We respectfully ask for your assistance in evaluating the services we provided, as this will enable us to provide the best possible care to others who turn to us in their time of need.