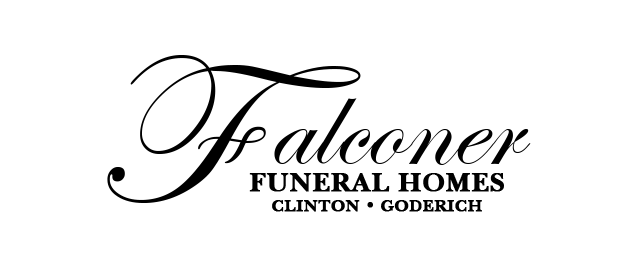 Donation Policy
Falconer Funeral Homes
Clinton and Goderich
The following is our Donation Policy when our staff are receiving and/or handling memorial donations in person, in either funeral home location or at an off premise location. Some charities are set up to receive memorial donations online or by credit card and some charities are not so enabled. Our staff will be pleased to advise you.
FUNERAL HOME POLICY – MEMORIAL DONATIONS Over the past few years we have noticed a tremendous increase in both the numbers of different charities in the province, as well as the amount of cash that is being donated. This has created several problems that we must now address. Problems include a lack of insurance liability for theft or loss of memorial donations, legal implications existing within the Funeral, Burial and Cremation Services Act, (2002) and as we have no need for cash in the funeral home, providing proper change for these donations is also most difficult. This Funeral Home's policy, which has been enforced since 1992, is as follows:
All donations will be accepted by cheque only.

All cheques shall be made payable to the particular charity and not to the funeral home. Any cheque made payable to the funeral home will be returned to the donor for correction.

All cheques received by the funeral home will be forwarded to each charity as soon as possible after the funeral; and only that charity will issue tax receipts. The funeral home is not responsible for the handling of receipts for these organizations.

The funeral home staff will continue to complete and place the memorial card on your behalf to the bereaved family.

Mass Cards may be arranged through the funeral home. Funeral Home staff will deliver all masses to the particular Church in our immediate service area. All other Masses to be celebrated elsewhere will be the responsibility of the donor.
We regret any inconvenience that this policy has incurred but it has been instituted to protect all parties involved; YOU the donor, OURSELVES, the funeral home and staff and the individual charities being the BENEFACTORS of the donations. If you have any questions or concerns please feel free to ask a member of the funeral home staff, we will be most happy to assist you.
Any donations made through our website that are processed by a third party business entitled "My Tribute Gift Foundation" are being handled by this third party service for the convenience of the online donors. This third party service, not affiliated with the funeral home, claims a standard 10% of each donation made for processing and administration costs.